Complete Reproduction of the Iconic SH-101
The SH-101 PLUG-OUT Software Synthesizer is a complete reproduction of the iconic SH-101—right down to the fine details and odd quirks that make it one of the most popular classic synthesizers of all time. Based on Analog Circuit Behavior (ACB) technology, it not only reproduces the SH-101's legendary sounds, but faithfully recreates the very behavior of its analog circuitry—all with a level of authenticity that could only come from the company that created the original.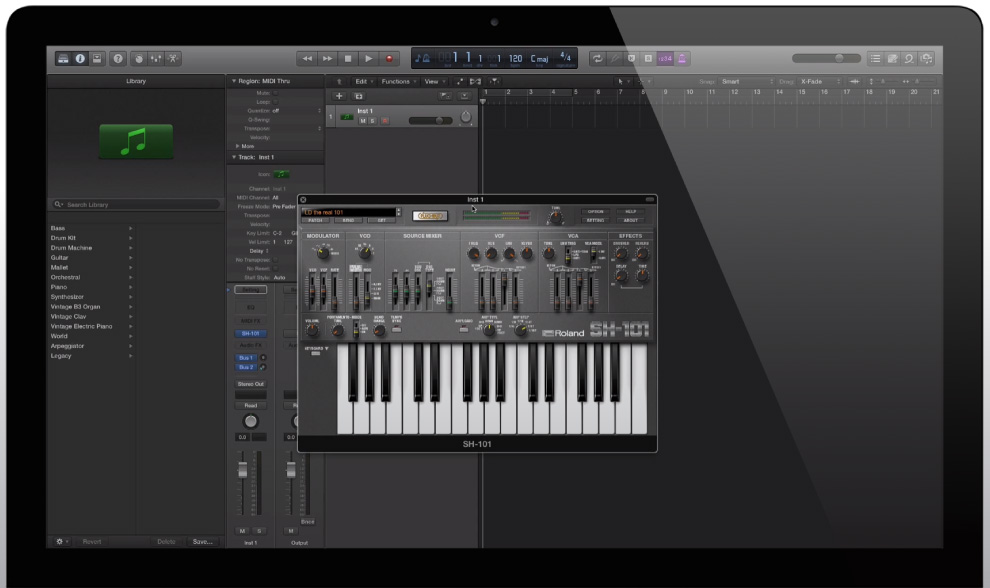 Capturing The Original
The now legendary SH-101 was a monophonic synthesizer launched by Roland in 1982. In contrast to the many complex synthesizers available at the time, the SH-101 quickly became popular for its characteristic tone and simple one-VCO › one-VCF › one-VCA › one-LFO structure. A legion of artists found it quick to program and adept at bright edgy tones and exciting sound effects. Thirty years later, the SH-101's hallmark sounds continue to be sought after by electronic artists the world over.
Total authenticity through face-to-face consultation with the original designers and relentless research beyond the original schematics
Instrument Levels — Customize kits by adjusting the gain of each instrument to suit your individual style.
Meticulously recreated oscillator and filter behavior—hallmarks of the SH-101 sound
Authentic behaviors including the unique interaction between low pass filter and envelope controls
Faithfully reproduces the unstable fluctuations that resulted from quirks in the SH-101's circuitry
Classic SH-101 synth sounds—bass, lead, noise, and sound effects
Software layout features standard gray model, as well as red and blue models originally sold as limited editions
SH Evolved
Go beyond the original hardware with enhanced tone shaping options and seamless DAW integration via AU and VSTi plugin interfaces. Full PLUG-OUT support means you can use SYSTEM-1 as a dedicated controller and even use the SH-101 without a computer. The freedom of hardware. The flexibility of software. The sound of a legend.
Two envelope sections allow different settings for VCF and VCA while maintaining the option of classic SH-101 envelope behavior
Reverb, chorus, delay and crusher effects that were not included in the original
Run as many instances as your computer can handle
Use SYSTEM-1 as a dedicated USB keyboard controller with lighted knobs and sliders that show only available parameters
PLUG-OUT with SYSTEM-1 lets you take an authentic SH-101 wherever you go, from mobile production to live performance
Transfer sounds between SYSTEM-1 and SH-101 with PLUG-OUT
Supports Macintosh and Windows, and AU and VSTi formats